Voice Messaging Services From the Industry Leader
Door Sabha is India's largest independent, integrated Command, Control, Collaboration (C3) service provider. Powered by the indigenous Qmulus100 conferencing platform, our bulk voice messaging and communication services offer the performance and reliability demanded by today's businesses.
What is Bulk Voice Messaging?
Audio conferencing is the easiest way to converse with multiple people across locations. All you need is a mobile handset or a simple telephone. Keep the discussion on track by controlling who talks and who can't. Effortlessly conduct a moderated Q&A session. Fulfill all business communication needs and achieve more with DSNL's audio conferencing services.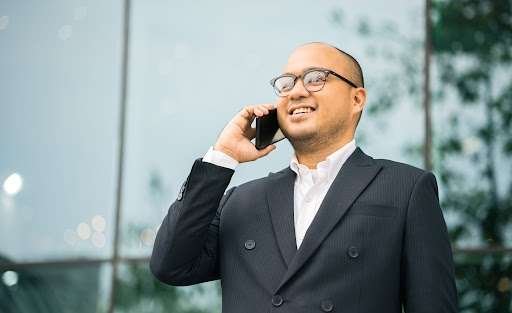 How does bulk voice messaging work?
A successful bulk voice messaging campaign includes three steps.
Write a simple, coherent script and get it recorded. Ensure the message adopts the right tone and is read out at the right speed.
Prepare the list of users
Prepare the list of users that must receive the message, along with person- specific variables, if required.
Once the message and list are prepared, you are ready to trigger calls to the numbers at the scheduled time and date.
How can bulk messaging services enrich your business plans?
There are compelling reasons why audio conferencing remains the first choice of business leaders.

Cost-effectiveness
Save costs while achieving exceptional results with bulk voice messages, the cheapest option to disseminate information.

Personalized messaging
Deliver messages customized for each user by incorporating variables such as an amount or account number.

Instant responses
Prompt the call recipient for a response during the call and collect feedback. Make insightful, data-backed decisions.
Why choose DSNL as your bulk messaging service provider?
When you plan a bulk voice messaging campaign, customer experience is of paramount importance. Let the voice communication experts at DSNL ensure its success.
01
Superior voice quality
Deliver crystal-clear audio, regardless of the size of your list or the length of the message.
02
Multi-carrier connectivity
Ensure the message reaches maximum users with our connectivity to multiple telecom carriers.
03
24×7 customer support
Our expert team is always available to assist you with your voice campaigns.
04
Robust technology
DSNL's voice message services are powered by our indigenously designed, cutting-edge Qmulus100  platform.
"The best conferencing company to rely on when you need to conduct critical or large meetings. Their support is top-notch — before, during, and after the call. Strongly recommended."
Chief Marketing Officer, Global Pharma Major
DSNL's voice messaging is an integral element in all our product promotion plans. The reach and response have been amazing."
Product Director, Fast-growing Insurance Aggregator
"We found a dependable solution provider in DSNL, thanks to their connectivity to multiple networks. This has been a real lifesaver".
COO, Leading Healthcare Company
1. How can I book a conference?
There are several options: You may log in to the web portal, email our 24×7 Customer Support team, or use Microsoft Outlook or Google Calendar.
2. Can I reschedule or cancel a booked conference?
Of course. We understand that plans can change. Use any of the reservation methods to reschedule or cancel your conference.
3. Is reservation required for every conference?
Not really. Opt for a reservation-less PIN and conduct conferences any time you want. The PINs are valid forever, so share them with a select, trusted group of people.
4. How do I join a dial-in conference?
You'll receive the conference details from the organizer of DSNL. At the scheduled time, dial any of the access numbers provided. When prompted, enter the PIN using a touch-tone telephone or mobile, followed by the "#"key.